History
Ashburnham Place has a remarkable history and we believe God desires an even more remarkable future for this hidden patch of land in East Sussex. For some 850 years, Ashburnham Place was handed from father to son down the Ashburnham line. The past centuries of chequered history here are full of colourful stories and legends of the Earls of Ashburnham, but in many ways, the most incredible events have happened within the last 100 years.
Just over 60 years ago a young theology student, John Bickersteth, received a phone call that would change his life and that of Ashburnham Place forever.
Lady Catherine Ashburnham
Lady Catherine Ashburnham, his cousin, had died and thus he had inherited a vast country estate and an 82-roomed mansion with its art treasures. Over the coming years, he sought to discover God's plan for the house and estate. By 1960 after much prayer and seeking God, John put the mansion house and the surrounding 220-acre grounds and gardens into the Ashburnham Christian Trust. This moment of the gift was to be a defining moment and set at the heart of the Trust the principle of self-emptying for the service of many. His hope was that the Trust would be used to extend the kingdom of God and to train men and women in discipleship and service. A scripture that John felt the Lord gave him in establishing the Trust spoke of the future of Ashburnham Place :
"'The Glory of the present house will be greater than the glory of the former house,' says the Lord Almighty. 'And in this place I will grant peace,' declares the Lord Almighty'" (Haggai 2:9).
Subsequent years
In the subsequent years, God has established Ashburnham Place as a place of peace and the glory of lives transformed, healed and inspired has indeed been great. In 2014 we, the community stewarding the gift of Ashburnham for this generation, still carry this expectation of greater things to come. We have found ourselves returning to our heritage and asking what does it mean for Ashburnham Place and its people to be a gift today? We are hungry to be radically used by God to activate transformation in every sector of life, locally, nationally and beyond. We want this to be a place that provides rest and refreshment for those serving to bring good news to their communities. We look forward to it becoming somewhere the broken and overlooked come and find restoration recognising their value and potential. We feel a dynamic sense of renewal of this vision and strategy.
Significance
A significant part of this renewal has been exploring how we serve those around us who are lonely, hungry, broken and isolated. We're seeing sudden powerful healings of God in guests as they come and encounter God. Our prayer is that this continues and increases; we also feel called to be a sanctuary place where the slower, therapeutic healing of God can occur. We have found God bringing men and women who have been struggling with addiction, facing homelessness or recovering from life crises. In each case we've been able to help in simple, practical ways, providing accommodation, regular meals, a loving community and regular meaningful activity. We've had the joy of seeing lives rebuilt and recover simply by having the same heart of the father welcoming the prodigal son; providing a patient and accepting community where there is time and space to discover healthy relationships and God.
Another very simple step has been to open a tea room in our rather grand Orangery. Although In basic terms this simply provides a beautiful setting for a good cup of tea, we have found it becoming a hub for the wider community around us, somewhere where otherwise isolated folk can come, find good company, experience hospitality and sit in peace.
The uniqueness of Ashburnham Place
Much of the uniqueness of Ashburnham Place lies in its stunning woodland, lakes and grounds. Our desire here is that we learn not only the transforming impact of Man being in right relationship with God but also the impact of Man in right relationship with the land. As a result we are shortly to be launching a Care and Recovery project based in the 4-acre walled garden.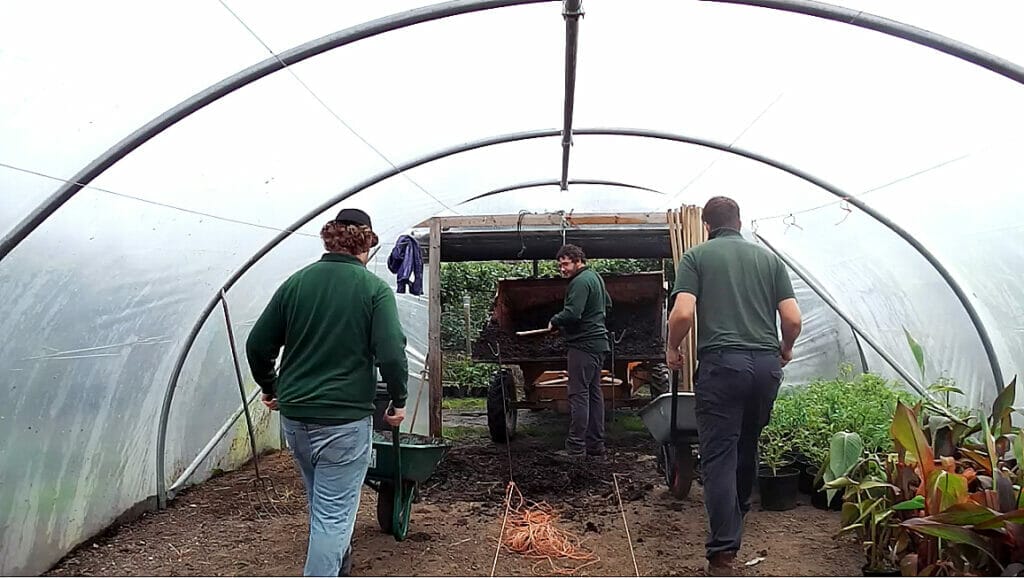 The dream is that a mixed community of individuals recovering and rebuilding together share the challenge of making the four acres fruitful. We see a time when chickens, bees, apple trees, rhubarb, potatoes, salads and more exotic produce thrive in the walled garden. In the process the team gain skills, confidence, deep relationships, healing and a sense of worth. The project leaders have just moved on to the site and we are already very excited about the prospect of not only serving food and drink produced on-site but of seeing lives transformed.
We know that the God we follow is not only the ancient of days but is also always doing a new thing and giving us a new song. Here at Ashburnham Place we have the privilege of serving in a place covered in the fingerprints of God through history at a time when a new song of transformation and hope is being stirred.