The Daffodils
As I write this during mid-March there are real signs that Spring is here; the naturalised purple Crocuses under the Black Walnut Tree have already flowered, faded away and been replaced by creamy yellow Primroses. The Daffodils planted for cutting in the Kitchen Garden are growing well and new buds are forming on trees throughout the woodland. In the Greenhouse, Jim's seedlings, including Sweet Peas and Onions are doing well and in the Kitchen Garden beds are being prepared – dug over and mulched – in readiness for planting.
Sweet Pea seedlings in the Greenhouse.
If any of you have visited the Orangery Tea Room in the last couple of weeks you will have noticed some major work going on just outside, the box hedging has been taken out and foundations are being laid for brick terracing so that tables can be set out there all year round. Gordon and his team of volunteers are working extremely hard to get this done. The hedging that was removed was diseased, in common with a lot of box (Buxus sempervirens) it had succumbed to blight, a fungal virus. We are going to plant a hedge between the new terrace and the path but we'll be using a different plant, Ilex crenata Dark Green, which has similar characteristics to box but is not affected by blight. It will be interesting to see how it works.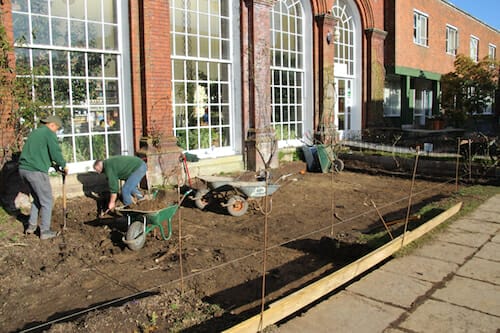 Pruning and tying
I have been busy during winter pruning and tying in the climbing and rambling roses along the Front Terrace and around the Orangery garden. It's a job that takes a lot of time and patience, means you're out in the cold and wind and at times it can seem never ending. However, it is also a job I love to do, creating some order out of the chaos of last year's growth and looking forward to the beautiful and fragrant flowers that will come in the summer. Here are a couple of before & after pictures to give you some idea of the job! I know many of you have roses like this in your gardens and its easy for them to get out of hand, once you know a few techniques they are actually very easy to look after. I am thinking of running a couple of workshops next winter to teach people how to look after climbing and rambling roses, if you'd be interested in coming along do drop me a line at grounds.team@ashburnham.org.uk and I'll be in touch.
Before and After pruning
The other change you might have noticed at the Orangery Tea Room is that a painted shed has appeared on one of the gravel areas. This is going to be a Kitchen Garden Shop, opening on 1st April. We've been selling plants and produce from the gardens at the Orangery Tea Room since it opened and this shop will give us the opportunity to do even more. We will be stocking it with cut flowers, produce, herbaceous plants and seasonal bedding throughout the year so do have a look when you come and visit and see what we have on offer. During this time of year you will see us all working hard to prepare for the growing season, do stop and say hello if you're visiting, we love to meet our guests and find out what the Grounds and Gardens mean to you all.