Welcome to our interview with Lucy, along with Martin; she is a dedicated organiser of the Ashburnham farmers' market, which is held on the first Saturday of each month at Ashburnham Place.
In this interview, Lucy shares fascinating details about the diverse range of stall owners who participate in the market, from local farmers offering their fresh produce to skilled artisans showcasing their unique creations.
For more information and the next Farmers' Market date, visit this link
If you would like to volunteer at the Market, apply here
If you are a stallholder, please contact us here
---
Can you tell us about the variety of stall owners?
Are they primarily farmers, artisans, or a mix of different businesses?
So we have quite a big variety of sellers, from local farmers selling their meat to award winning cheesemongers, jam & jelly makers, sauerkraut & komboucha creators, chocolatiers, flower growers, woodworkers, candle makers, trug and basket makers! As well as our own artisan baker selling his sourdough and other delicious pastries & our kitchen garden selling their homegrown, pesticide free fruit & vegetables (grown in our 4 acre garden metres away from the market!) We have fresh delicious coffee too! Plus many more, on average we have 25-30 sellers.
Do you have any stall owners who specialise in niche products?
If so, could you provide some examples?
We have some wonderful craftsmen attending the market, the most unusual recently was a gentleman who uses the process of "Scagliola" which Is a mix of gypsum-based casting plaster, animal glue and pigment. The variations of colour, texture and veining create a marble like finish. His pieces are really wonderful and very unique. We also have recently acquired a very talented wood worker who makes incredible one of a kind pieces from unusual and rare wood.
Are there any success stories?
We have definitely formed a lovely community at the market, with most of the stallholders being with us from the beginning. In this time lots of friendships have formed between sellers and visitors that attend. I've seen stallholders have babies, raising children, which I've been blessed to pray for & mourn with one stallholder through a tragic loss. People know that there is a special peaceful & joyful presence here and that naturally opens us conversation about the One that brings that energy, the One that is Jesus, for us that work & live here.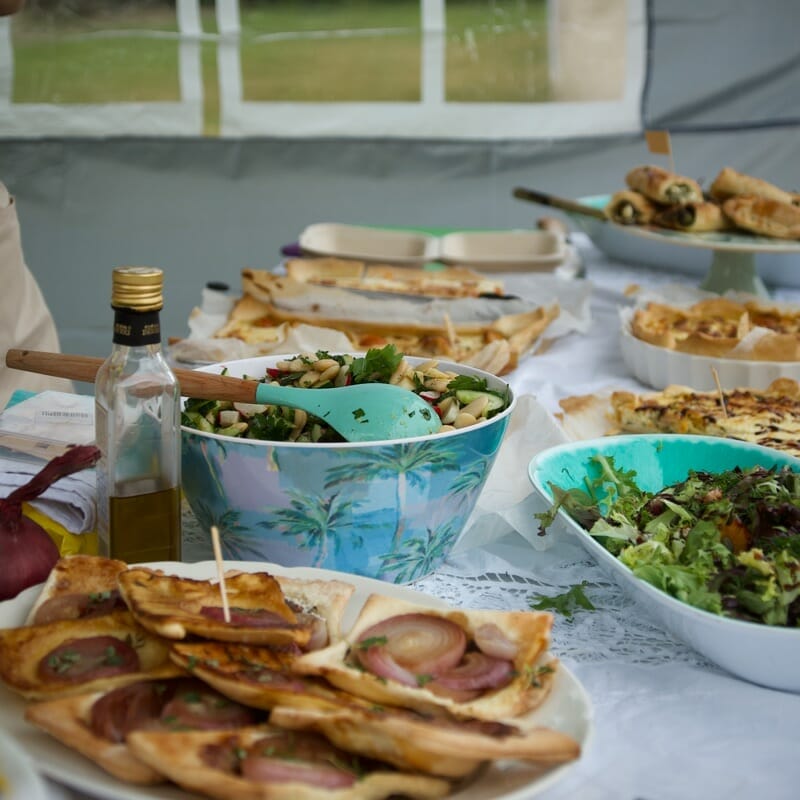 Are there any upcoming events we should look forward to?
We try to always have some kind of free activity for children but I'm excited to say that in July we have one of our stallholders "the little farmers" offering a free activity to encourage seed planting and growing. Follow us on social media for more info!
Are there sustainable and organic products in the Market?
We aim for our market to be plastic free and as sustainable as possible. With on site recycling and composting we try to have as little negative effect on site as possible from the market. All stallholders have to fill in an application form which shares our vision, for products to be made locally, with organic/ethical processes and with sustainable ingredients"
Can you tell us a bit about the history of the Market?
The market started within lockdown, in March 2020. It was a way to support our local farmers and small business that were struggling to sell their products due to covid restrictions. So we were able to socially distance, outdoors and it has grown steadily ever since.
What are the benefits of shopping at the farmers' market compared to a typical supermarket?
It's true they say that with every purchase you make from a small business there is someone that does a little happy dance. That's the case with our stallholders. Your purchases make a huge difference to their livelihood. You enable the production of goods that are made consciously and sustainably. Our bakehouse for example only uses British cultured butter and wildfarmed organic flour. We care about our planet, it's a gift from God that He has commanded we nurture and take care of, so we take that very seriously.
How can we get involved?
We are always looking for volunteers to help run some of the stalls and assist with parking, set up and take down! Currently it mainly lands on myself and my wonderful colleague Martin! So some more muscles would be a huge blessing.
---
The market would not be possible without the help of volunteers, in particular, one person Martin! Who single handly often sets up the majority of the market, organises and manages the parking and is an all-rounder ray of sunshine and possibility.
If you are interested in joining the team, click here
If you are a stallholder and think you might be a good fit for the Market, please get in touch with us here
For more information and the next Farmers' market date, visit this link
Follow the Market on Instagram
Photography by Rachel Kiely https://www.rachelkiley.co.uk