Interviewer
It's a lovely late summer morning, with many butterflies flying around. And I'm sitting here in the Bothy courtyard with Jules, our new Kitchen Garden Manager. And do you like being called Jules or Julian?
Jules
I don't mind being called Julian. But everyone growing up called me Jules. So that's kind of stuck in that. That feels natural.
Interviewer
And you've been at Ashburnham Place for about six weeks now, taking over from Nick & Anna. How's that been?
Jules
It's been a lot of fun. There's been so much to get my head around, but there's such a supportive network of people here so I've always felt supported. And, it's been quite joyful. There have been moments of, gosh; I'm feeling a bit anxious. But the overriding feeling has been one of excitement and anticipation.
The Garden
Interviewer
So the kitchen garden. It's four acres?
Jules
I'm told it's four acres. And there's just under two acres in cultivation. We've got perennial planting – things like orchard trees, apple trees, pear trees, cherries, rhubarb, and things that stay in the ground all year round. And then we've got an acre of cultivated beds. We've generally got four-foot wide beds, which we will plant out, whether we sow seeds or little plants that we propagate in the plastic house. And keep them full throughout the year and the season. So we're putting food on plates throughout the year.
Interviewer
And you're pretty new to Ashburnham Place?
Jules
Well, I volunteered here in 2019 & I was here quite a lot in that year. I worked with Nick, Anna, and the team, so I got to taste it then. But now it's my responsibility. I'm picking up on the hard work of Nick and Anna and their team because all the things that we're harvesting now, they planted. So just this last week, it's been quite a good feeling to put some seeds in the soil myself and sow some seeds in the plastic house in modules. I love it.
Jules Story
Interviewer
Exciting, what a challenge. What were you doing before you came to Ashburnham Place?
Jules
I've been gardening for the last four or five years. Before that, I worked in film production with a charity and children's charity, the NSPCC. But I wanted a career change. I wanted to be outside working with my hands so I retrained with the RHS and did a horticultural level 2
course, which was an industry standard course. I started working as a gardener in London with a garden maintenance company. Then, when we moved down from London in 2019, I started my gardening business, garden maintenance. That went well, and that's still going. Although I'm much less involved with that now; I have a couple of guys continuing to look after the gardens. Now I'm full-time at Ashburnham place.
Interviewer
And how many are on the team here?
Jules
We've got around 10, maybe even 12, regular volunteers in the kitchen garden team. So there are various types of volunteers. We've got 10 to 12 volunteers who live off-site and come in every Tuesday to help. And we have a core team of four of us that live on site. And we also have trainees who come in on an employability program. At the moment, eight of those guys are coming in on a Tuesday. So Tuesdays are our power days where we get a lot of stuff done. Today, we've got Luke, Hanke and Bethany and me. We might have four on any day, or sometimes there's just one or two in the garden. And what's on my heart is that Kate, my wife, will join the team after her maternity leave finishes. Our heart is to grow the team. We need more volunteers that invest in the kitchen garden.
Volunteering and Work in the Garden
Interviewer
So, what kind of work do you get up to?
Jules
Everything from the horticultural side takes up a big chunk of our work. So that starts from preparing the soil, making compost, and making sure that we've got good fertile, healthy soil to grow in. Then we need seeds, so we'll plant seeds in the soil and grow a lot of them in the plastic house, placing them in pots and then looking after them in the nursery.
That can look anything like putting a little tiny courgette plant in the ground, or it could be ordering seed potatoes, so small little potatoes, which we plant. And then there's a lot of work to look after the plants, protecting them from birds, pigeons, and butterflies. It's an ongoing harmony.
Interviewer
Is the work quite intensive? Is it hectic? What would be my daily routine if I were a volunteer?
Jules
If you're a volunteer and coming in, it's seasonal, but one of the great enjoyments of being a volunteer in the space is that you'll get to try everything from growing to planting. We are harvesting at this time of year so a big part of our daily routine at the moment is just picking. So much food to pick, and that's joyful. But then, we've got a volunteer, a guy called Steve, who works with a chap called David, and they're brilliant because they do a lot of the practical things like repairing polytunnel doors or creating hoops for our netting, fixing tools, and stuff like that. Without them, we couldn't do what we're doing either. That's not my thing. I'm not especially DIY-orientated, so we'll be looking for more volunteers who like woodwork and metalwork and stuff like that, too.
Interviewer
So there's lots of varied work for people of different skill levels and abilities?
Jules
Yeah, different skill levels, abilities; we've got people who've never been in a Kitchen Garden. And we've got people who have managed their allotments for years. We've got a really lovely guy called Alan, who I'm learning from; he comes in on Tuesdays, just for the morning. He's recovering from a physical illness. So he's happy picking runner beans for the first couple of hours and chatting away.
We've got a new volunteer called Mary who has a small garden and just started growing her own stuff. And she's finding it helpful to see what we're doing and when. Learning with us, she can then take those skills back home. So that works well.
The great thing about gardening is you can have no knowledge and come in and be instructed on relatively straightforward tasks, and quite quickly; you can build up your confidence, learn and then take that knowledge away. Culture is important and is at the heart of the team; how we grow as a team, and how we share influence. So we've got three values: generosity, connection & courage. And I'll say a little bit about those things because I think they're really important to us. Generosity We want to continue what Ashburnham Place is as a gift to those that come. We want to be generous with the produce that we grow so we give stuff away. We are giving something to the food bank at the moment. We want to empower and educate people, so they can do things at home, take knowledge away, and maybe do something with their church groups or schools. We want to be generous with our words. We want to build people up with generosity. And then Connection; we've talked a bit about this idea that we want to connect with each other, build each other up, connect with the environment and connect with God. Courage is this idea that we give people a space to try things, to step out, and get out of their comfort zone a bit. Some of the people here have been unemployed for quite some time. We want to give them space to try new things. "Have you got any ideas? Are you interested or passionate about anything in particular? Let's give you some room to grow in that." And just lots of encouragement. Lots of words of affirmation and helping people grow in confidence. It's a great space for that. It's a safe space. Some trainees who come back week after week have been coming in for four or five years, maybe even longer. And I enjoy the safety of the space here.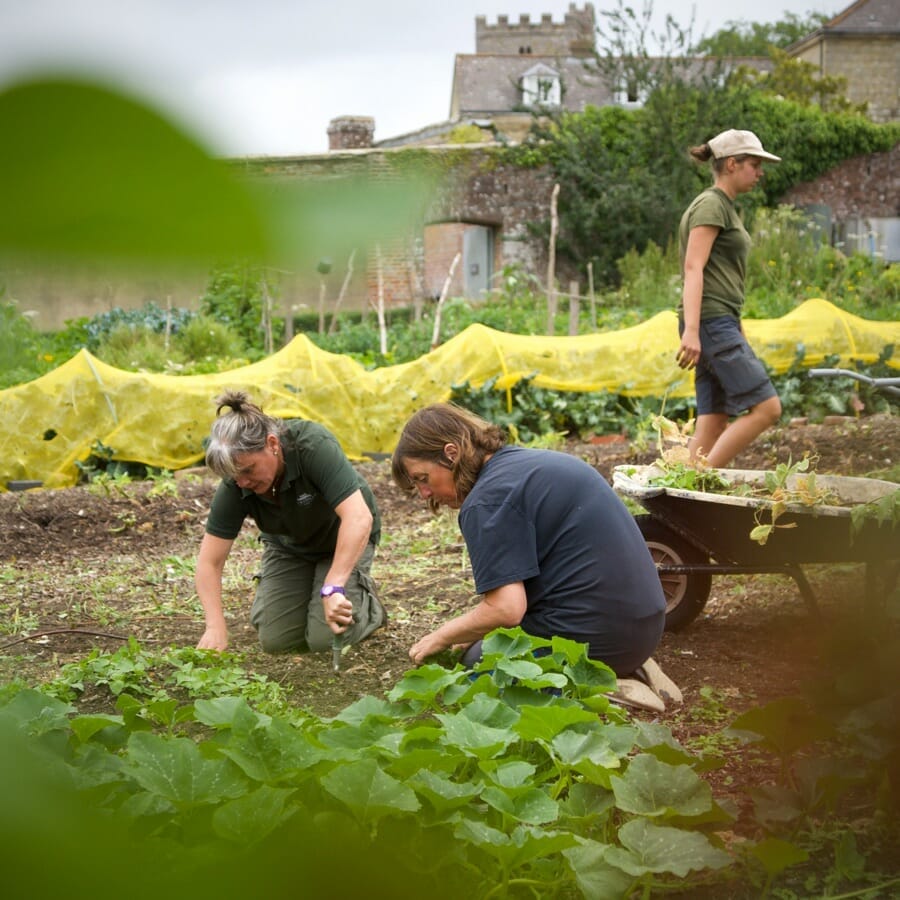 The Benefits of the Garden
Interviewer
What do you think people receive when they come here? What do you feel the benefits are?
Jules
If I had to guess, it would be a community, a sense of community, that familiarity that when they come they see the same faces, so they get to share life with people. They come, we have a meal, we have a coffee break, and a lunch that's provided. And those are always highlights for people, sitting together eating and having meals.
I think it's also a sense of purpose coming in and seeing tangibly, "I was involved in sewing those onion sets, and now we're harvesting them, and they're going into veg boxes"; I think there's a real sense of pride and, and purpose in that. Our heart is to connect people; connect people to the land, and connect people to the Divine. We want to connect people with Creator God so anybody can come in.
Interviewer
Tell me a bit more about that connection between the land and the Divine. What does that mean?
Jules
Kate and I, over the years, have instinctively felt called to explore what it means to work in the land; we both grew up going to the forest at the weekends and swimming in lakes and having that exposure to the great outdoors, and just really being edified by that experience. So we, as a family, want to enjoy those experiences. Then finding our way to where we are now was a journey with our connection with food. Many people are aware of this, especially now with some of the crises that are going on. Food is so important. What we eat is essential for our health, how we grow things is vital for sustainability, and the health of our environment and water systems, so all of that connection is important to us. And what occurred to us is, we must get hands in the soil, you know. We expect our kids when we send them off to nursery that if they come back, and they've got dirty clothes and things, we know they've had a good day, right? And I think the same thing extends to us as adults as well; the more we connect with our land, with the soil, the happier we are, and there's lots of evidence to suggest that exposure to soil can improve our health, our mental health and our general sense of well-being. So there's that side of it. We want to create opportunities for people of all ages and all experiences to come in and have that opportunity to get their hands dirty, to teach them about the soil microorganisms, and explore the wonder of our soil. There's so much going on down there that we can't even see with our naked eyes, and we find that fascinating.
Who is the Garden for?
Interviewer
And then the connection with the Divine. So when you're working with the land, there is a spiritual connection as well? Would you say that it's an intrinsic thing?
There is. When we're working with the land and seeing things grow, I think it points to something mystical, mysterious, wonderful, a creator God who's providing for His people. I think the fact that we've got all these resources to tap into, certainly speaks to me of a God who is a God of abundance and provision. And we can learn so much from being in the open space, in the quiet, in the still.
Being outside creates a space for silence, solitude and just being present, away from the hustle and bustle and the noise of social media, and just life where it can get busy. I'm sure that the volunteers and trainees who come here will often say things like, "Oh, when I come here, I just feel really peaceful." "I feel like there's a presence here. That's comforting." And so, anecdotally, I'm sure people have that experience of the Divine.
And do you feel that people volunteering here need to have some connection with God or the Divine, or do they need to be spiritual people?
No, it can be for anybody who's open-minded enough to be around others. The nature of Ashburnham Place is that there are many Christians from many traditions. There are going to be conversations around spirituality, perhaps sometimes through the lens of a Christian viewpoint. But we have some volunteers who are exploring faith or have no faith. If there is one, the main requirement is that volunteers are open-minded and respectful of each other's viewpoints. That's the main thing. We have yet to have any arguments or bust-ups.
Sustainability and No-Dig Gardening
Interviewer
How does the Garden tie in with sustainability and climate issues going on right now? Do you have a heart for that?
Yeah, absolutely. It can feel a bit overwhelming when you see in the news all the different challenges that we're facing, like depletion of topsoil, drought, farmers not having people to pick. I think that there are all sorts of challenges in the agricultural world, which I don't pretend to be an expert on, but I certainly am more and more interested in these things. The thing that is displayed here with a no-dig garden is resilience.
In a nutshell, we build the soil here with compost annually. We make our own organic compost, which uses up the waste that otherwise might go into the landfill and builds soil fertility. It makes us more water retentive, so when we have periods of drought like we've had, the roots go deep, there's more moisture retained in the soil, and we have more biodiversity.
All these things can give us resilience so that when we do face challenges we are more likely to get a better crop than, say, a farm where there's a lot of tilling going on, and the soil is worked very hard, and the inputs aren't going back in.
Interviewer
So the no-dig method, can you explain that? I heard about no-dig, and we've been doing it here for a few years?
Yeah, they have been doing it here for probably the last six years, possibly even eight years. No dig is very simple. Applying compost to your growing area over time, improves soil fertility. Earthworms and other insects work the soil themselves, so the worms do the main job of creating tunnels. As they eat organic matter, they come up to the surface and drag leaves down. They are essentially the diggers if you picture it that way.
With the traditional method of double digging once a year the issue is that it's tough to work and is labour-intensive. There's a lot of evidence to show that, over time, it will damage the soil and disturb the microorganisms and the worms, so you're messing with that ecosystem. Whereas if you look at a forest, the leaf litter falls to the ground, and the microorganisms, bacteria, and fungi work on that material, which gets absorbed back into the soil. And you get this amazing life, the trees growing.
In some ways, it's an oxymoron, and we're not growing a forest. We're planting seeds and then lifting vegetables at the end of the season rather than disturbing the soil with lots of digging. We're just gently layering organic matter on once a year, sometimes twice a year. Building the soil that way causes less disturbance.
And it keeps the health of the soil, keeps the bacteria in the soil?
Yes, it keeps healthy bacteria and fungi. It's also great because, in the long term, it can help reduce weeds. If you were to go into a garden today and rake, or dig and rake, over the soil, then come back after rainfall in a couple of weeks, you'll see lots of weeds because the seeds will stay dormant in the soil, sometimes for decades. Every time you dig the soil and turn it over, you're exposing the seeds, and then they're exposed to a bit of sunlight, water, and germination. With the no-dig way, you continue to put material on top of the soil. You're not disturbing those seeds. As you pull out the odd weed over the years, you have less and less weeds to deal with. So that's a huge benefit. We're fighting a lot of weeds at the moment. We've got ample space to look after and limited resources in terms of labour.
What are we Growing?
Interviewer
So how many people would typically look after a garden this size?
That's a good question. Well, I looked and did a bit of researching what a garden of this size would have had back in the heyday, and around 35 gardeners were working in a place like this; every day, full-time. Now you have to take that with a pinch of salt because labour was much cheaper then, and they were growing all sorts of things like melons and pineapples, very labour-intensive items; they didn't have some of the machinery that we have now. Still, we could have eight people in here every day easily, to really look after it well and perhaps start to extend into the space which isn't yet cultivated. So that would be fun.
Interviewer
Pineapples in the UK?
Yeah, they used to have them along the side of these walls – glass, lean-to structures and then they'd have piping underneath the walls, which would pump hot air from a furnace or fire somewhere, so there would be this constant supply of heat.
Are you putting pineapples on the menu soon?
Ha ha, not yet! Once we get on top of the weeds and recruit a few more volunteers, we'll try pineapples in a couple of years' time.
So what kind of crops are we growing at the moment, what's going on?
We've got everything from apples to aubergines, sweetcorn, peppers, potatoes, celery, runner, beans, everything really. We've got three polytunnels, which is great because we can grow things like our aubergines, peppers, and tomatoes well. Our tomatoes are doing very well at the moment. Really tasty! And then we'll be growing things to feed us over the winter. Storing onions, storing potatoes, squashes, butternut squash, and things like that. Pumpkins, cabbages, broccoli. Yeah. So that's another great thing. People that are wanting to grow at home or are interested in feeding themselves or supplementing their diet. As a volunteer, it's great because you can take stuff home. There's such an abundance and we encourage people to take a box of bits and pieces home with them, which is excellent.
Tips for Beginner Gardeners
Interviewer
Yeah, I love that. What kind of tips would you give to the gardener starting out?
Top tips for a new gardener? Only grow things that you want to eat. Don't get excited about growing something that's quite complex or tropical. The main thing that you need to think about is the environment that you're growing in. So is there going to be sunlight? Is it going to be sheltered from strong winds? Have I got access to water? Don't start your vegetable patch right at the top of the garden, where you've got no hose pipe. Start growing a few potatoes and a few runner beans, easy things.
Start small; grow a small area to get yourself confident with what you're doing. Go online to YouTube; there's so much information out there. Charles Dowding has inspired me with his no-dig gardening. He's been doing that for years, decades. And he's got a good YouTube channel.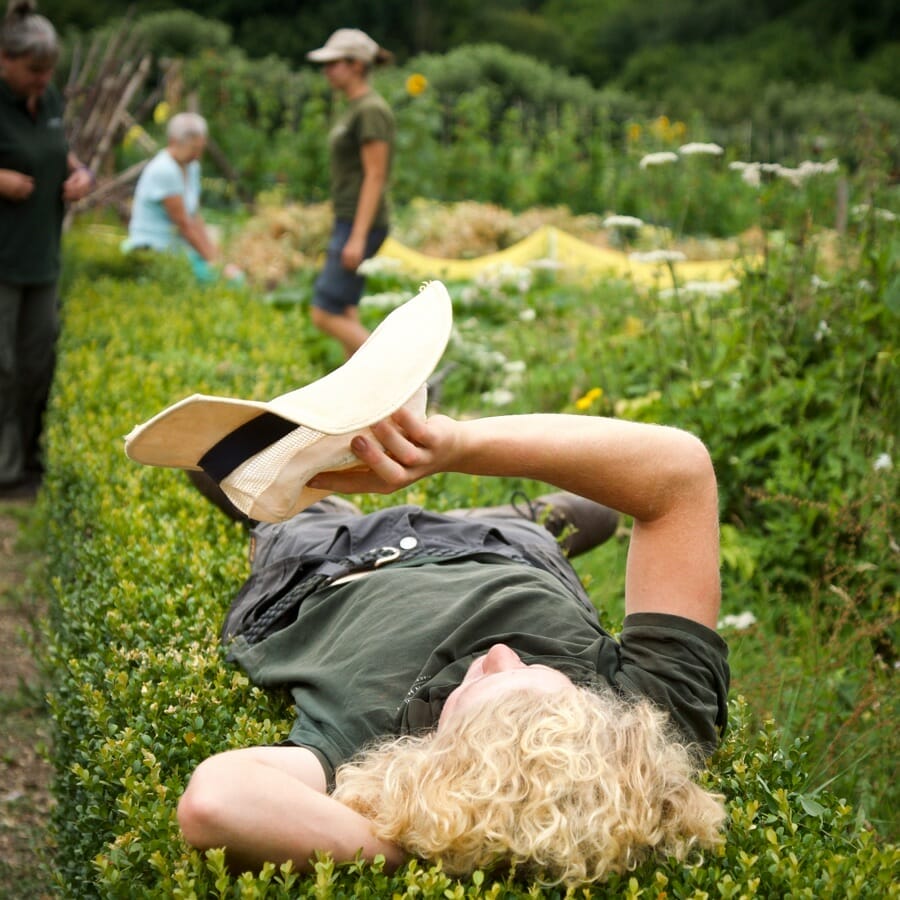 How to get Involved
Interviewer
So what's the best way of getting involved here? How would someone get involved if they wanted to?
Either come and visit us and say hello, in person. On a Tuesday, Wednesday, Thursday, or Friday, between nine and four is the best time, or send me a contact online. We have a Farmers Market once a month with lots of other brilliant supplies. People sell meat, cheese, flowers, arts and crafts, etc. It's also a good opportunity to come and see all our products because we will sell everything that's harvestable.
Is it the first Saturday of every month?
Normally. The info will be on the website.
So where does the food generally go? Is it mainly the Farmers' Market?
Yes, the Farmer's Market; we've got about 30 veg box customers. Every Monday, I'll message them and ask if they would like a box on Tuesday or Wednesday that week. If they say yes, we'll pack the boxes in the morning of the day that they've chosen. The boxes will be ready to collect from 12.30.
Is that for local people?
Yeah, that's generally local people. You want to travel only a short distance with food boxes. We don't deliver boxes at this stage.
We also send a lot of food to the kitchen here to feed the community and our guests. The kitchen will take a lot of salad leaves, and the Orangery uses our salad leaves too. All sorts of things like aubergines went up the other day, and sweetcorn, potatoes. We continue building that relationship, providing more to be eaten on-site.
Interviewer
So if people want to get involved in the kitchen garden, they can email you from the contact form on the website. You can fill it out, and that goes directly to you.
Or they can drop in. On weekdays
Thank you, Jules, for the interview.