One of the wonderful things about Ashburnham Place is the rich variety of wildlife that we share this place with. Parts of the woodland are designated by as a Site of Special Scientific Interest (SSSI). The reasons Ashburnham is considered a SSSI include the large area of ancient woodland that remain – the mature trees support over 160 different types of lichen. The woodland is also host to some rare plants and a large number of breeding birds including some species that are 'red listed' which means they are considered rare or endangered in the UK and whose conservation is treated with the highest priority. The lakes (created by Lancelot 'Capability' Brown) increase the diversity of habitats onsite and host a rare type of pondweed as well as offering breeding sites for waterfowl (including these Coots) and insects such as dragonflies.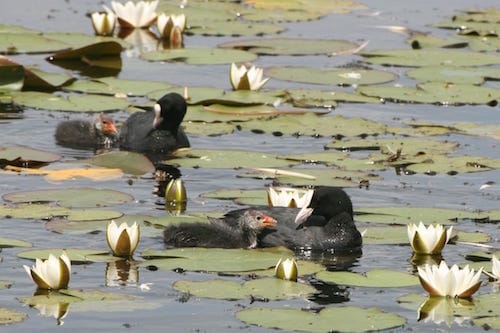 Wildlife Diversity
It is a privilege to work in a beautiful place with such a diversity of habitats and range of plant, bird, animal and insect life and it such a treat to hear the likes of Reed Warblers singing away as I walk to work on a summer morning. We try and manage the grounds in a way that benefits other wildlife and decisions are made to leave dead wood lying in some areas as it provides a fantastic habitat for all kinds of insects. Some dead wood is also left standing where it is safe to do so, and provides an ideal habitat for different spider species. In the gardens we also aim to use plants that are wildlife friendly, so, for example I try and choose varieties of herbaceous perennials that are good for pollinating insects.
Nesting
Last year I had the opportunity to visit a nearby farm which has a barn owl nesting box up in one of their trees and watched while the chicks were carefully taken out, weighed, measured and ringed by Tim, a local expert. We decided we would like a nesting box onsite here in the hope that we might attract a breeding pair – the Barn Owls using the farm's nest box can be regularly spotted hunting in the fields on our boundary and had several chicks last year who will need accommodation! Volunteers with our Employability Project made up a box to the specification needed and a couple of weeks ago, Tim, Gordon, myself and one of our ACT volunteers headed out to put it up, well Tim did most of the work while I watched and took photos. So, now we wait and see whether any Barn Owls take up residence this year.
Emerging Spring
After such a dark, damp winter it is wonderful to see signs of Spring emerging, the Wild Garlic (Allium ursinum) is coming up on the river banks and buds are forming on the trees in the woodland. The birds are becoming more active too, on the lake the Great Crested Grebes have been spotted doing their mating dance, we hope they will breed again this year, in 2014 they raised a chick, (as you can see from this picture) but last year they abandoned their nest.
Pruning
In the gardens I have finished pruning all the climbing and rambling roses and tying in the new growth. This is always a major job over the winter so it feels good to have finished. One of our fantastic local volunteers has been weeding and tidying up under the roses after me so it all looks clean and smart. The next job is to get everywhere weeded, old growth cut down and plants fed and soil mulched.
As you may know, this year there are nationwide celebrations of the life and work of Lancelot 'Capability' Brown, commemorating 300 years since his birth. Many places where Brown designed gardens will be open to the public, including some that are not normally accessible. For more details go to the Festival Website, www.capabilitybrown.org where you will find listings of events all over the country. We are planning some guided walks here at Ashburnham Place followed by tea in the Orangery Tea Room (built by Brown during his time here). We are also hosting Sussex Gardens Trust who are holding their AGM and a Brown study day here in April. They have two speakers who are experts on Brown's work who will be giving talks and leading walks on the day. Check out their website www.sussexgardenstrust.org.uk for more information and details of how to book.