Remember
You may remember that in the last blog I wrote about a terrace being built outside the Orangery Tea Room, well, it is all finished now and guests are already enjoying their cream teas outside.
Once Gordon and his team had finished, Jim and I took over and got the beds ready for turf laying and hedge planting with help from James. We wanted to keep a formal feel and continue the clipped hedging that is such a feature of that part of the garden but we didn't want to use Box (Buxus sempervirens) as we have problems with blight. So, we have used an alternative plant called Ilex crenata (Box Leaved Holly) which has a similar growth habit to box and can be clipped into formal shapes. I am looking forward to seeing how it grows and hope that it will prove to be a good alternative. We have laid areas of turf between the hedge and the path as well as planting the narrow beds under each of the magnificent Orangery windows, using herbs and annuals – Thyme, Marjoram and Pot Marigold. The final job was to choose two new climbing roses for the pillars, the originals having died. I chose two David Austin roses, he specialises in growing old fashioned types with lovely scent but which also have good disease resistance. I chose Rosa Generous Gardener, which I thought very fitting! It has beautiful pink scented flowers throughout the summer. Also, Rosa Spirit of Freedom, another pink rose with lovely scent and blowsy, double flowers.
I think the whole team has enjoyed working on such a key project and we look forward to seeing you enjoying a cuppa outside on the terrace. Have a look at the photos here to see the finished result.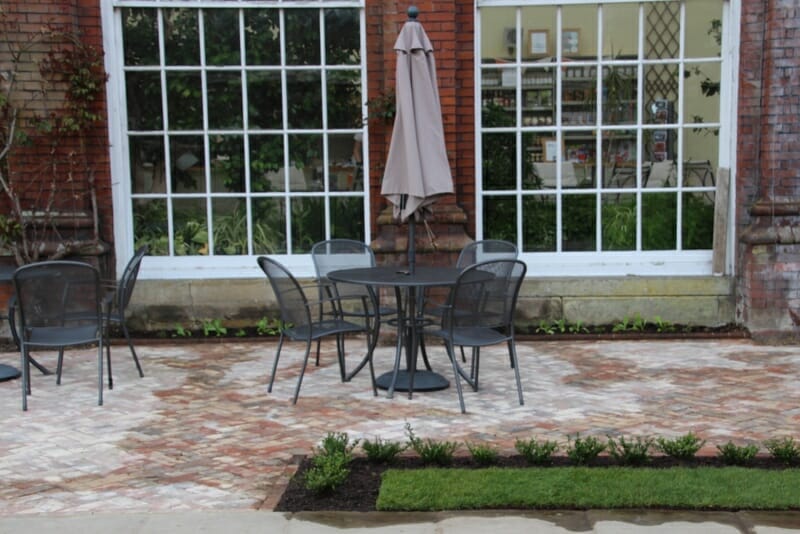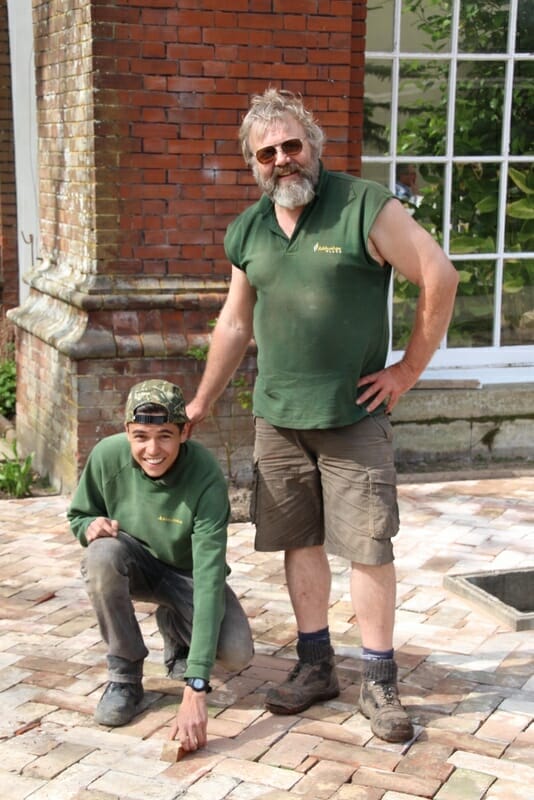 Gordon and Lucas Laying the Last Brick
A few weeks ago Ashburnham Place hosted a Country Lifestyle Fair, it was a great couple of days (despite the windy weather) with a superb range of stalls throughout the house and in the courtyard. Our Kitchen Garden shop was well stocked and appreciated by all the visitors. We're selling an increasing range of perennials, herbs, annuals, hanging baskets and delicious produce from the Walled Garden. It's open every day and is well worth a visit (although I'm probably slightly biased!) We're hosting another fair on 11th and 12th November, perfect for a bit of Christmas Shopping so put the dates in your diary.