A rare, wet and gloomy day
I am writing this at the end of September on a rare, wet and gloomy day. We have enjoyed some wonderfully warm and sunny weather this autumn and the bedding plants (apart from Lobelia) are all still going strong. I will have to start pulling them up, flowers and all, next week because I have chosen Wallflowers (Erysimum) for the winter bedding this year and they really need to be planted when it's still warm so that they can get well established before the cold weather comes. Ideally this should be done before the end of September but this Autumn has been so warm and dry that we are a bit behind. I will get them done as soon as I can and hope for the best. I will also be using Pansies and trailing Violas to bring some colour to the beds and pots over the winter.
There are some lovely patches of autumn colour in the gardens, including these Sedum spectabile alongside the wall near the Orangery Tea Room.
Chelsea Chop
I gave them the so called 'Chelsea Chop' in late May and they have done really well as a result. The idea is that you can cut down some herbaceous perennials by up to a half to stop them getting too tall and floppy. They will re-grow but remain shorter and bushier and flowering may be delayed. When I cut these down they were already flopping over the grass, the result of cutting them back quite hard is these lovely, bushy plants absolutely covered in flower heads. It is called the 'Chelsea Chop' because a good time to do it is around the time of the Chelsea Flower Show in late May.
Another late flowering hit in the garden has been Caryopteris, these shrubs with silvery-green leaves have beautiful, intense blue flowers up and down their stems and the bees and butterflies love them, as you can see from this picture.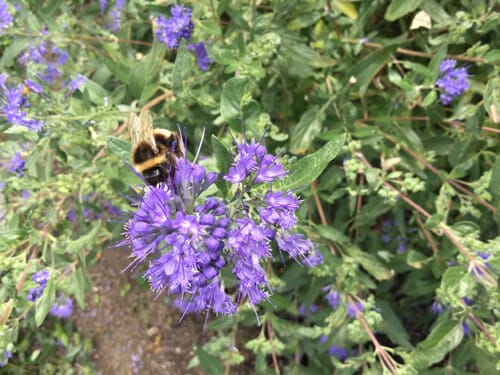 Old Holm Oak stump
These are at the back of the newly planted area around the old Holm Oak stump in the bed adjacent to the Church Wall in the West Garden. I mentioned in a previous blog that I had used wildlife friendly plants that would do well in the sunny, dry conditions of this bed. These shrubs have taken very well and have already grown to about a metre high and wide. They are covered with flowers and I have watched several different species of bumble bee working their way over the flower heads.
This newly planted area has proved very successful with wildlife and guests and so, in the spring I shall be adding to it and adapting it a bit. I will continue to use plants that will thrive in the sunny conditions but are also beautiful and attractive to wildlife, these will include Echinacea purpurea, Coreopsis lanceolata and verticillata and Monarda x didyma.
In the Kitchen Garden we have had a good apple harvest again this year with nine large crates being sent to a local farm for juicing. The whole community got involved including the children who live onsite who spent an evening in the orchards and our international team of volunteers who had lots of fun while they picked the apples!
Bottles of apple juice
Don't forget you can buy bottles of our apple juice to enjoy at home from the Be The Word bookshop or the Kitchen Garden Shop outside the Orangery. You can also enjoy it by the glass from the Orangery Tea Room. It really is delicious and makes a lovely gift too. Why not try some next time you come over?
The interest in the landscape designer, Lancelot 'Capability' Brown has been building this year as we celebrate 300 years since his birth. Like many of the properties where he worked we have organised events to mark this special anniversary and also taken the opportunity to learn more about him and the work he has carried out here. On 10th November we will be hosting a classical concert in the Great Hall which will include much-loved music by Bach, Handel, Purcell, Arne and Mozart, as well as more recent composers such as Stravinsky, Holst and Britten, whose music has been inspired by 18th-century ideas. The music will be accompanied by stunning photography and moving images illustrating Capability Brown's life work and showing how his landscapes have evolved, and their continuing influence. The evening will feature Susanne Mecklenburg – Soprano, William Hancox – Piano and the photography of Gareth Davies.
More information and booking details can be found by going to our website, www.ashburnham.org.uk or phoning our bookings team on 01424 892244